Definition
Communication with your students is a complex process, but an important part of university teaching. Communicating effectively with your students will help build trust, promote respectful behaviour, and decrease chances of misunderstanding. In an online or flexible hybrid setting, effective communication can also help decrease negative interactions online.
Explanation
Students are inundated with communication during their studies from numerous channels. While they have to navigate and understand course material to be successful in university, a lot of their success depends on their ability to receive, interpret, and act upon the information that is communicated to them.
Email
While email is an easy and fast way to deliver important information to your students, it may not always work best - in fact, studies show that up to 50% of students do not read emails from their institution or academic department/faculty (EAB, 2019).
Canvas
The learning management system provides a robust set of tools for communicating with students. However, research has shown that often instructors simply post material on the LMS without using the other interactive tools, such as discussion boards, chats, and conferences (Adzharuddin and Ling, 2013).
Be clear in your expectations for communication

Be clear in what you want students to do, where to do it, and when to do it.

Keep in mind that dates can be easy to misread if written in numeric form - this can change from region to region. Indicate a.m. vs p.m. and applicable time zone (Eastern Time for Ontario Tech) when possible.

Indicate when, where, and how students can reach you. Be sure to indicate your preferred contact method on your course outline as well, but do not include personal emails or phone numbers.

Set deadlines for responding to student communication. Having a set or "canned" communication statement can be helpful.

The procedure (e.g., by appointment only), time, and location for office hours should be explicit and clear.

Limit additional barriers for students

Avoid using extra jargon, figures of speech, or sarcasm in communication with students, especially in written format.

Use multiple forms of representation for important information.

Keep navigation on Canvas simple and straightforward. Students should be able to find material in its expected location.

Provide options and ask for opinions

Allow students to have input on communication standards in class (e.g., LMS announcement frequency, chat usage, webcams on/off, etc.) This can build trust and improve student satisfaction.

Understand that not all students will feel comfortable using a webcam and/or microphone due to their living situation. Some students do not have access to reliable Internet or these devices.

Consider being flexible for students who are juggling multiple responsibilities at home or work, and/or are joining the class from a different time zone.
Examples
Instructor

Jenny Lock, PhD

Lecture Time and Location

Mondays, 12:40 p.m. to 2:00 p.m. Eastern Time: UA 1140

Wednesdays, 12:40 p.m. to 2:00 p.m. Eastern Time: Online, using the Media Gallery link in Canvas

Office Hours Time and Location

By appointment only. Please email me to arrange for an appointment. Appointments are only available from Monday to Friday, between the hours of 8:00 a.m. to 4:30 p.m. Eastern Time.

Communicating with the Professor

Preferred Email: jennylock@faculty.ca




I will check emails regularly Monday through Friday, from 8 a.m. until 4:30 p.m. Eastern Time. Please allow me 48 hours to respond. I will not be checking emails on weekends (Saturday and Sunday). Do not email me through the course LMS.
Example of a communication plan in a course outline.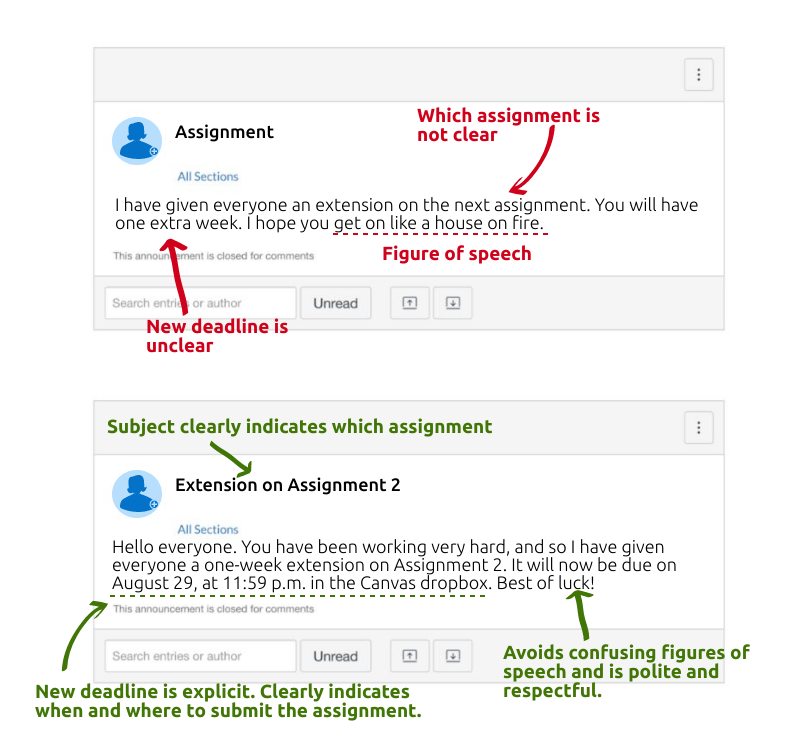 An example of ineffective versus effective course announcements in Canvas.
References
Adzharuddin, N. A., & Ling, L. H. (2013). Learning management system (LMS) among university students: Does it work. International Journal of e-Education, e-Business, e-Management and e-Learning, 3(3), 248-252.
EAB, Education Advisory Board. (2019). 5 types of emails students ignore—and how to get your emails opened. https://eab.com/insights/daily-briefing/student-success/5-types-of-emails-students-ignore-and-how-to-get-your-emails-opened/