Definition
A flipped classroom is a type of educational strategy which reverses the traditional learning environment by delivering instructional content outside of the classroom. This delivery of instructional content is typically done online. 
In a flipped classroom, the instructor moves activities, including those that may have traditionally been considered homework, into the classroom. The instructor then uses the in-class time to foster more active learning. This is the reverse or "flip" of the more common traditional practice, which typically introduces new content in class, then assigns homework and projects to be completed by students independently at home.
Explanation
The concept behind the flipped classroom is to rethink when students have access to the resources they need most. If the problem is that students need help doing the work rather than being introduced to the new thinking behind the work, then the solution the flipped classroom takes is to reverse that pattern.
Application
Now that we understand what a flipped classroom is, we can move onto understanding some of the applications (or uses) of this pedagogical tool. Here are a few:
It is useful as a blended learning approach. In a flipped classroom, face-to-face (F2F) interaction is mixed with independent study, typically via technology.


It is useful for busy students. Flipping your classroom will allow students to learn content when they have the time and concentration span.

It helps students who might be struggling with course material. Students are able to pause, rewind, and re-watch content in their own time which puts less pressure on them to learn quickly and gives them more time to absorb information.


It helps students with different abilities to do well. Flipped classroom appeals to students of all abilities because learning occurs at the student's own pace.



It increases student-teacher interaction. Because students do a lot of their engagement with the material before class, they are able to engage with the teacher more during class.
How to Effectively Flip a Class
One of the major factors in effectively employing any new teaching strategy is the time it takes to do it well. We recommend pilot testing the flipped model with a single class before engaging in a complete course redesign. Instructors should also ensure that they have a solid planning model to facilitate flipped activities. Here is a planning model for the flipped classroom. This model takes into account four (4) major segments or phases that instructors should focus on when employing a flipped classroom strategy.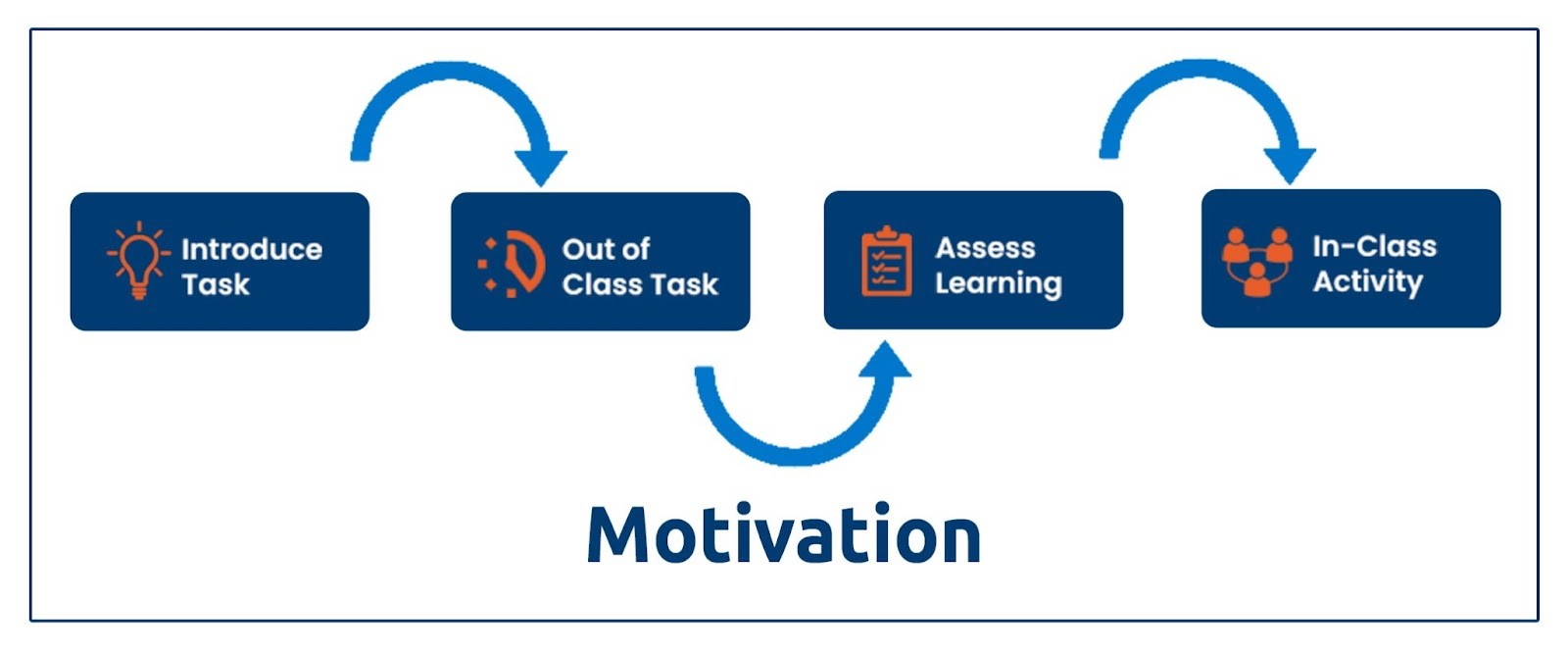 Planning model for flipped classes. (Adapted from Waterloo University)
Example
In the flipped classroom model, students could read, listen and watch materials online through the learning management system (LMS) before coming to class. Canvas is the Learning Management System (LMS) used to support all courses at Ontario Tech University. Class sessions can then be used to work together on group projects and other learning activities.
There are several activities that faculty can flip in their courses. Some examples of these activities are listed below.
Pre-class Activities

In-class Active Learning

Watch an online lectures and tutorials

Review online course material

Read physical or digital texts

Participate in online discussions, forums, blogs, etc.

Perform research

Problem solving/worksheets

Quiz prep questions

 

Discussions or Debates

Reflection

Team/group or project work

Experiments/demonstrations

Presentations (students)

Peer assessment/instruction

Case-based learning

Field-based instruction

Problem solving/worksheets

Experiential learning

Quizzes/exams/concept inventories

Review questions

 
Resources
Bane, J., Bradshaw, E., & Spears, R. (2018). Flipped by Design: "Flipping the Classroom" Through Instructional Design.
References
Course design: Planning A flipped class. Centre for Teaching Excellence. (2018, February 28). Retrieved from: https://uwaterloo.ca/centre-for-teaching-excellence/teaching-resources/teaching-tips/planning-courses-and-assignments/course-design/course-design-planning-flipped-class