Definition
Experiential learning is the strategic, active engagement of students in opportunities to learn by doing and reflecting on those activities, which empowers them to apply their theoretical knowledge and creativity to real-world challenges, including those in workplace and volunteer settings.
Well-planned, supervised and assessed experiential learning activities enrich student learning and promote intellectual development, interdisciplinary thinking, social engagement, cultural awareness, teamwork, and other communication and professional skills.
Experiential learning can include:
Interactive simulations

Industry or community-sponsored research projects

On-campus work

Teaching labs

Performance-based learning

Capstone projects

Internships

Apprenticeships

Practicums

Campus incubators

Applied research projects

Co-ops

Field experience

Clinical placements
Explanation
There are many different types of experiential learning that can be integrated into in-person, online, and flexible hybrid learning. In addition to the type of experiences, you may also wish to explore the types of learning that can be accomplished via these experiences. They include  active learning, problem-based learning, project-based learning, service learning, and place-based learning (Wurdinger and Carlson, 2009). These approaches can be applied to various experiential learning opportunities that are already in place at Ontario Tech. It is important to consider that some disciplines may be better suited to some types of experiential learning versus others.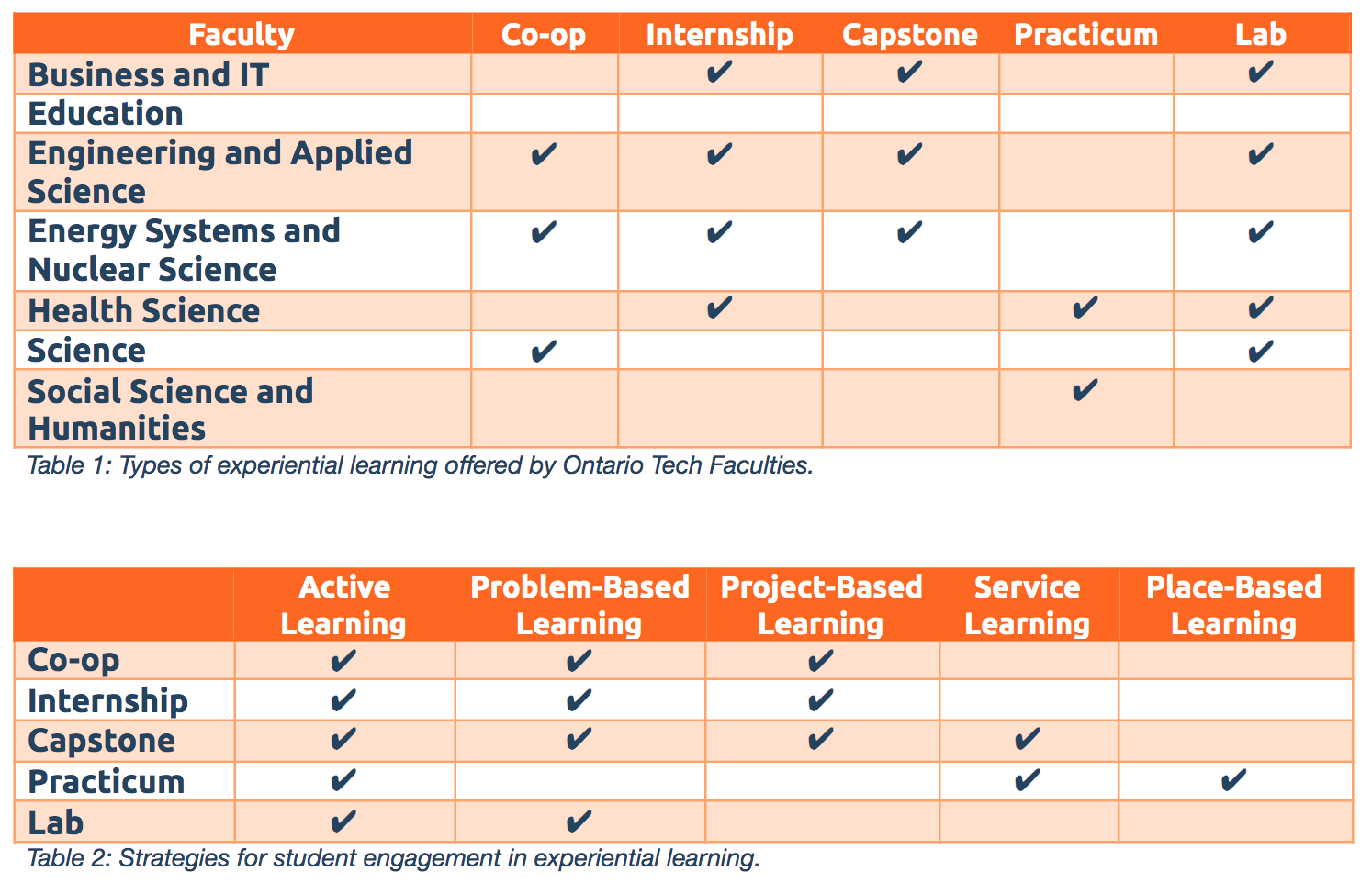 Application
Examples
Faculty of Social Science and Humanities – Online Practicum Course
A sophisticated online version of the Faculty's typical practicum course was created so that students can complete a practicum experience off-campus, whether they are in another country or are too far from Ontario Tech campus for the live class commute. Without the online version, students juggling demanding class, work, and personal schedules were unable to fully experience a practicum, or, more likely, to avoid the experience altogether.
Faculty of Education – Engaged Educator Project
The Engaged Educator Project (EEP) is an action-oriented educational project where students engage with the various stakeholders of an organization, network, or community of practice on an issue or opportunity that is meaningful to the group, leading toward meaningful social or structural change for the group. This project is designed to help students make connections between what is learned in class and the potential for impact the learnings have on society. It also allows for flexibility, so students are able to engage with stakeholders on a project that is meaningful for themselves and their educational path.
Faculty of Energy Systems and Nuclear Science – Field Trips
The Canadian Engineering Accreditation Board (CEAB) sets standards for the academic requirements of accredited engineering programs in Canada. The technical environment expects the student to increasingly integrate and practice, using hard- and software tools, required and/or identified task(s) as a stand-alone technical work output or (more often than not) as a contribution to a larger technical project/initiative. The Faculty of Energy Systems and Nuclear Science developed a number of new experiential learning opportunities with the Career Ready Fund to link the graduate attributes and learning outcomes indicated by the CEAB with hands-on experiences during field trips to actual engineering operations, encouraging the acquisition of CEAB-required skills while increasing their knowledge of employment scenarios. 
Ontario Tech - Lord Ridgeback Project, Partnered with Durham College
Students from Ontario Tech (Forensic Science, Medical Laboratory Science, Collaborative Nursing Registered Practical Nursing-to-Bachelor of Science in Nursing) and Durham College (schools of Justice & Emergency Services, Health & Community Services and Media, Art & Design) participated in a disaster simulation exercise on the university's and college's shared campus in north Oshawa. As part of the simulation, there was a noticeable presence of emergency vehicles on campus, volunteers acting in distress and being moved around campus on stretchers, and the use of smoke machines. Participants put their in-class training into action and gained vital understanding of how health-care, emergency and legal service providers and the media must work together during an emergency. In addition to collaborating with students in their own institutions, participants in the Lord Ridgeback Project also worked with students in disciplines at the partner institution. This added authenticity to the Project, encouraging students to call upon communication skills as well as technical knowledge.
Resources
References